Paintings of New Zealand Maori. Pre European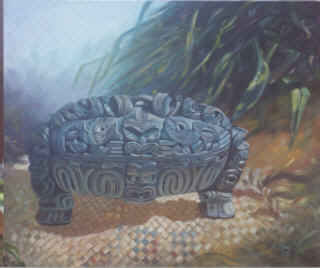 Wakahuia.
Were used for ceremony.
This one intricately carved, showing the God
RURU (owl who represents life and death).
Housed Taonga (treasures) of the ancestors and was brought out on special occassions to remember love ones and child birth.

Its life size is 18" long by 12" high by 12" deep

Painted 2000: oil on canvas 26" x 30"